Professional Dog Grooming Salon, Cheadle Heath, Stockport SK3 Tel : 0161 425 8668 Email : [email protected]
EMMIPET ULTRASONIC TOOTH CLEANING CALL
Puppy Groom £30 or 1st Furcut £35 age limit applies
Situated in Cheadle Heath, Stockport a Professional established Grooming salon dedicated to using only the very best products on your dogs. In a clean and healthy environment a caring compassionate atmosphere where your pet will feel safe and comfortable, grooming dogs of all ages, breeds, cross breeds, Heinz 57, doodles, hybrid designer mixed dogs. We specialise in Poodles and Poodle crosses.
Your dog will receive 100% attention and enjoy our Deluxe Dog Grooming.
Our aim is to ensure we listen to you about your dogs lifestyle and work with you to achive a look that is best for you dog.
Appointments by booking only.

Fully Insured with Pet Business Insurance, trained in Pet 1st Aid & CPR.
All dogs groomed by caring hands and clipped hand scissored and trimmed.

Calm, patient soothing environment great for all dogs, puppies, old dogs and nervous dogs.
Creative grooming, trim your dog into a unique trim or breed standard the choice is yours.
Tail to toe service everything from ear cleanse eye cleanse to nail trimming.
Special pamper treats like our Spa Blueberry facial and pawdicure.
Total matted coat removal service available.
VIP CLUB Monthly maintainance plans available to keep your dog in top coat condition.
Offering a selection of services from a Brush Buff n Fluff Perfect for in between grooming or for short haired dogs that dont need clipping. To a Full Works Deluxe Groom which includes clipping and scissoring to style for more information look at our Groom Options & Pricing page, also find details of our Puppy Power Package for the pups.
Always included in these services is a warm hydrating jet stream massaging bubble bath shower, professional shampoo and conditioning, ear and eye cleanse, nail clipping and a basic MOT health check. We will advise you a collection time on arrival once your pooch is fully pampered your dog will not be here waiting for long periods of time.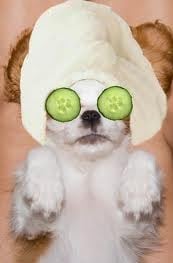 Once you book your grooming appointment you will arrive and we will have a consultation to discuss what style you would like your pet trimmed to. Advice can be offered on how to best care for your dogs coat in between your appointments and a recommended schedule based on your dogs breed, trim and lifestyle. Should your dogs coat be severely matted we offer a full matted coat removal service and can the work to achieve the look you want.
Your pet receives 100% undivided attention while being groomed, this helps speed up the process of building trust and a bond between groomer and dog which is very important so your dog can feel relaxed and calm. So if your dog needs a hair cut or just a bath call.
You MUST inform the groomer of all and any issues past or present. We can tailor sessions for very nervous dogs in order to build up trust and confidence in a gentle positive way, we will never force the grooming process as this should be a positive, stress free experience so your dog can come to enjoy the process. We also reserve the right to cancel the groom at any point should we feel the safety of your dog or Groomer are at risk.
If you would like a Dog Walker or interested in homeboarding please call for a recomendation.
Located in Cheadle Heath, Stockport servicing Cheadle Hulme, Adswood, Edgeley, Gatley, Didsbury, Bridgehall, Stockport, Heald Green, Cale Green, Shaw Heath, Heaton Moor, Heaton Mersey, Bramhall, Hazel Grove, Offerton, Reddish, Wythenshawe, Sharston, Northenden, Bredbury, Hyde, Denton.
google-site-verification: google103bbbf026d9fd18.html