Animology Mucky Pup No Rinse Shampoo Spray 250ml
---
Animology Mucky Pup No Rinse Shampoo Spray 250ml
£5.00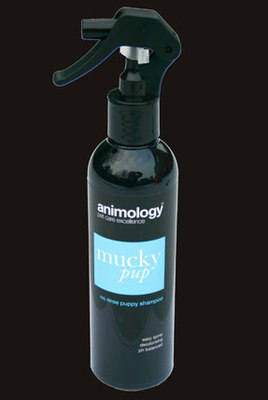 Animology Mucky Pup no rinse shampoo has been specially formulated to be suitable for puppies from the age of 6 weeks old,it can also be used as an everyday rinse shampoo to keep both puppies and dogs fresh and clean. It has a mild action that loosens and breaks down dirt making it easier to brush out dirt while targeting the source of odour without stripping the coat of its essential oils.
This spray formulation has built in Conditioners and Pro-Vitamin B5 that help improve the health, strength and condition of the coat. Animology Mucky Pup is infused with our 'Baby' scent that ensures all Animology clean puppies and dogs look, feel and smell simply wonderful.
AWARD WINNING
pH BALANCED
DEODORISING
BUILT IN CONDITIONER
PRO-VITAMIN B5
NON-STICKY
Instructions for Use
Spray onto dog's coat, rub in, remove dirt and leave. Repeat as necessary. Avoid contact with eyes, ears, nose and other sensitive areas. If this occurs rinse with water.