Ancol Red White Polka Raincoat PVC Wipeable Funky Various sizes
---
Ancol Red White Polka Raincoat PVC Wipeable Funky Various sizes
£11.00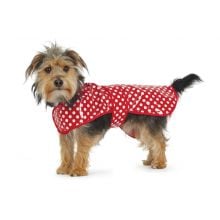 A bright cheeful polka dot patterned PVC dog coat which is both lightweight and durable.
Made from wipe clean material, this mackintosh style coat can be worn alone or over a cosy dog jumper for added warmth in bad weather conditions. The classic blanket design has large velcro chest and tummy fastenings for optimum adjustability, ensuring the best possible fit for your dog.
Available in 4 sizes to fit a wide range of dog breeds, measure from base of neck to base of tail to make sure you get the right size.
Extra Small - 8" - 10" (20-26cm) - Chihuahua, Yorkshire Terrier
Small - 10" - 14" (25-36cm) - Jack Russell, Border Terrier
Medium - 14" - 18" (36-46cm) - King Charles Cavalier, West Highland Terrier
Large - 18" - 22" (46-56cm) - Springer Spaniel, Beagle