Kong Zoom Groom Massage Brush Pet Cat Dog
---
Kong Zoom Groom Massage Brush Pet Cat Dog
£5.50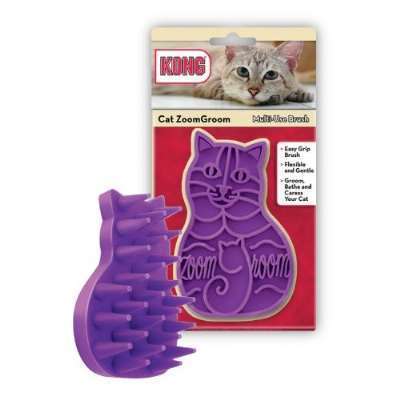 The Grooming Tool That Massages and Grooms at the same time!
Purrrfect for cats, small dogs and other furry animals

The soft, rubber fingers are a magnet for loose hairs and with the Cat Zoom Groom's soft texture it is effective on all breeds of cat.

Regular grooming with the Zoom Groom can help to condition skin and reduce hairball formation. Cats love the feel of the zoom groom as its gentle massage action runs over the body. Zoom groom can even calm stressed or anxious cats, especially in potentially traumatic situations such as visiting the vets etc.

Zoom-Grooming will dramatically reduce the age-old loose hair problem, and your pet will look, smell and feel better! It also performs well on small dogs and most furry animals. This really is a cool, trendy & essential grooming tool.

APPROXIMATE MEASUREMENTS
Length: 10cm – Width: 7cm - Length of rubber fingers: 1.5cm - Colour may vary.