Ancol Muddy Paws Xtra Warm Thermal Dog Fleece Burgundy & Black All Sizes
---
Ancol Muddy Paws Xtra Warm Thermal Dog Fleece Burgundy & Black All Sizes
£13.00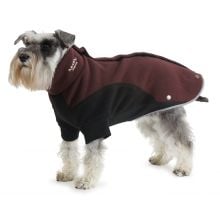 Snug & Warm Outdoor Dog Fleece.
Inspired by outdoor pursuits clothing for people, these coats are thin and lightweight but offer tremendous thermal protection on cold days.
The coats are very low profile to allow them to be worn under other coats to give an extra "layer" of protection.
Velcro spine fastening, elasticated full chest coverage and leg straps.
Available in 5 Sizes to fit all breed, measure from base of neck to base of tail to make sure you get the right size.
Extra Small - 8" - 10" (20-26cm) - Chihuahua, Yorkshire Terrier
Small - 10" - 14" (25-36cm) - Jack Russell, Border Terrier
Medium - 14" - 18" (36-46cm) - King Charles Cavalier, West Highland Terrier
Large - 18" - 22" (46-56cm) - Springer Spaniel, Beagle
Extra Large - 22" - 26"(56-66cm) Weimaraner, Setter