Kong Zoom Groom Massage Brush Pet Dog
---
Kong Zoom Groom Massage Brush Pet Dog
£5.50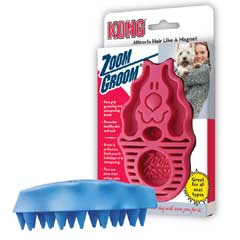 The easy way to remove old and dead hairs from your dog's undercoat! This Kong Zoom Groom is an excellent grooming and shampooing brush. It removes loose hair like a magnet and effectively reduces hair balls whilst at the same time it stimulates capillaries and natural oil production for a healthy skin and coat.
Easy to use
Easy grip
Gentle with no sharp bristles
Suitable for all types of coats
Zoom-Grooming will dramatically reduce the age-old loose hair problem, and your pet will look, smell and feel better! It also performs well on small dogs and most furry animals. This really is a cool, trendy & essential grooming tool.

APPROXIMATE MEASUREMENTS
Length: 10cm – Width: 7cm - Length of rubber fingers: 1.5cm - Colour may vary.